Whooopy!
Yesterday I was actually productive. I finished hand stitching on the bias trim of my revamped maternity top and also tacked on the bow to the lolita skirt.
The second tier of the skirt was tucked, then gathered and a bow attached.
The skirt is nearly complete. I just need to insert the back elastic and close the waistband. Hooray! I can't say I will be sad to see it go. It looks lovely but I really fought with the material. Who knew that it was such a slippery little sucker. My guess is that it's a crinkle taffeta. Wish I knew that when I decided I loved the color and bought it several years ago. Oh, well. I guess it's a small price to pay to do some destashing.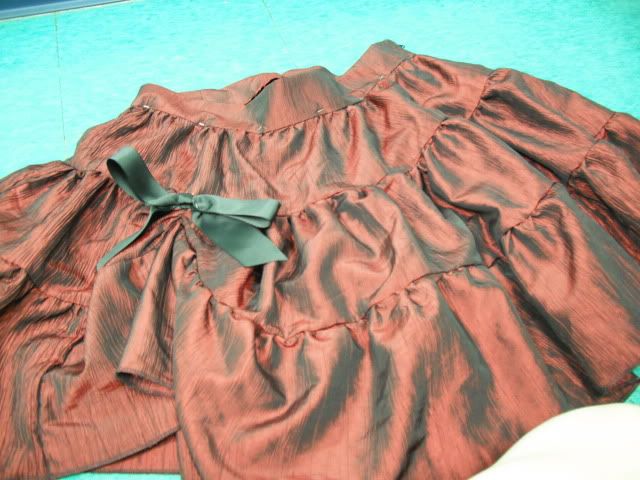 Please forgive the horribly quick shot done at work.
All in all this skirt only cost me a little sanity, time and about $2 for the zipper. The fabric I already had and the ribbon I had left over from Halloween. It was actually a wire edged ribbon for craft purposes but I slid the wire out and like magic, just a regular grosgrain ribbon again!
Next on my list of projects is to work on a plarn totebag. This time I am using the remainder of that Malley's bag from the
Recycled Bangle Bracelet
tutorial as the bottom. It's very thick and I think will work well for the bottom of the bag for reinforcement. I just wish it didn't scrape up my knuckles as I add on more and more rows.
Crafting is love. Love and pain. Well, sometimes more pain than love.